Day 11 of the organizing challenge and today was a doozy. THE FREEZER. Well, now you all know my little secret. I do love me a Whiskey and Coke. Not much food in there. I'll definitely have to stock up. Maybe I should do a little more eating and less drinkin'. Just kidding, I'm not that much of a lush.
Here is the before.....
And the after.....
Well, I figured since it was FREEZER day, FRIDGE day would be coming up soon, so I tackled that as well. OOps, there it is again!!!! I do love me a glass of wine too!!! (see box on the right).
This always takes me about an hour to accomplish, but it always feels so good when it is done.
Before.....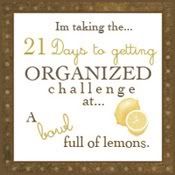 Thanks for stopping y,
Hillery